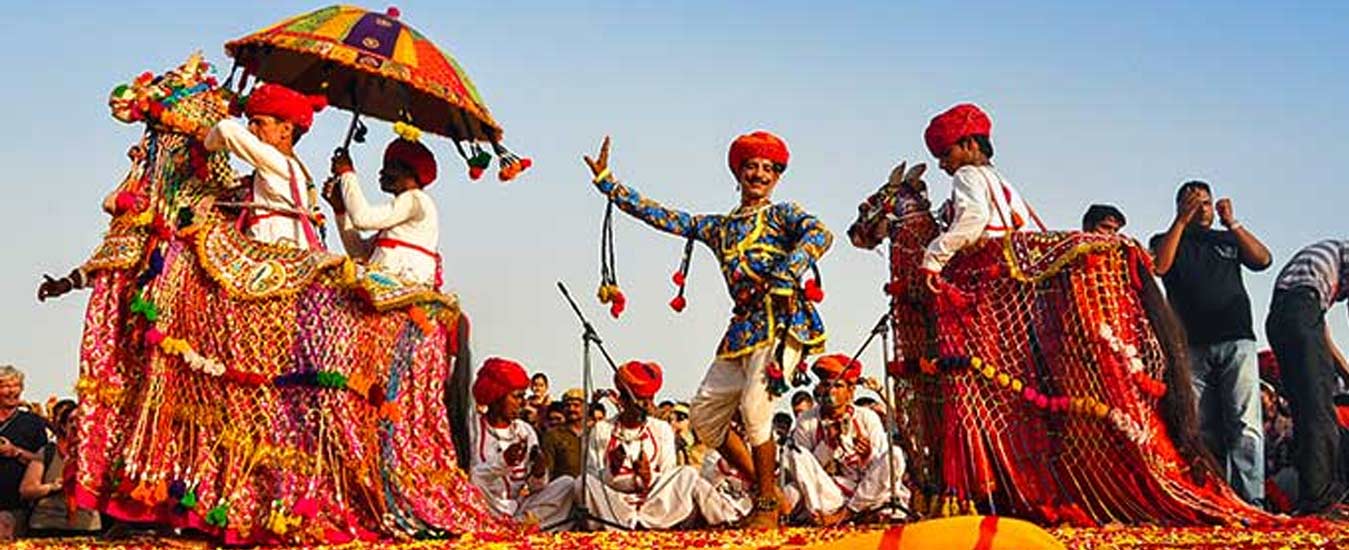 Experience the grandiose that Pink City evokes in Jaipur tour packages
Jaipur is the capital and the largest city of Rajasthan and it is among the most popular tourist destinations in India. It is known for its cultural heritage and for its pink color which denotes its warm hospitality that was painted pink to welcome the Prince of Wales in 1876. It is one of the earliest planned cities in medieval India under the supervision of Vidhyadhar Bhattacharya which is divided into nine blocks and surrounded by many historic landmarks. The city is recognized as a UNESCO world heritage site and is home to two other world heritage sites that are Amer fort and Jantar Mantar. With the Royal Rajasthan tour package, you will get a chance to explore the architectural wonders of Jaipur city such as Hawa Mahal, Jal Mahal, City Palace, Albert hall museum, and many more.
Jaipur is a major part of the Golden triangle tour that is the most popular tourist circuit in India for the exploration of the rich culture and royal heritage of Indian history. It is known for its beauty and is considered the most colorful city in India for this reason it is called the Paris of India which consists of several Havelis, forts, palaces, museums, fairs, festivals, and many more. It is a princely wonderland that is a major hub of arts and crafts and is world-famous for many traditional shops of antiques, jewellery, handicrafts, gems, bangles, potteries, carpets, and textiles. If you want to explore the regal destination in Jaipur then you can book a Rajasthan Forts and palaces tour package thatwill let you explore the majestic forts and mesmerizing palaces of the historic period. It is flecked with numerous tourists per year to glimpse the royal culture of the royal state.
Jaipur is known for its traditional jewellery, traditional fabrics, handicrafts, and traditional Rajasthani cuisine. If you want to visit and explore the popular tourist attractions of the royal city then you can book a Jaipur tour package that will let you witness the majestic monuments and ancient architecture, majestic forts and palaces, and many more. In the Rajasthan heritage tour package, you will get a chance to explore the popular historical sightseeing tour and exploration of cultural shows, visit the heritage hotels, and many more.
Jaipur is nestled in the Aravalli range of hills known as the pink city of Rajasthan that offers tourists the era of Rajput rulers. It is famous for its intricate architecture, arts, and craftsmanship, culture and heritage, traditional cuisine, textile, fabrics, handicrafts, and cuisine. If you want to explore the city with your family then you can book a Jaipur family tour package that will let you experience the hub of several architectural wonders and tourist attractions.
Conclusion
Jaipur is an ideal place to visit for all types of travellers be it a long trip or a short trip, it can be visited by honeymoon couples, vacation seekers, wildlife lovers, adventure seekers, and many more. If you are a travel enthusiast and want to book a tour package to Jaipur then you can book your tour packages. We offer you a vast range of Jaipur tour packages from different destinations that you can book according to your travel preferences. All our tour packages are customizable and flexible and available at affordable and reasonable prices with great deals and discounts. We offer you well-maintained transportation and trained, experienced drivers. We take care of your comfort during the entire journey and also suggest the best accommodation facilities according to your budget. To know more you can go through our website.